Introduction
---
Plato's The Apology is an account of the speech Socrates makes at the trial in which he is charged for not accepting the gods recognized by the state, inventing new deities, and corrupting the youth of Athens. Socrates' speech, however, is by no means an "apology" in our modern understanding of the word. The name of the dialogue derives from the Greek "apologia," which translates as a defense, or a speech made in defense. Thus, Socrates attempts to defend himself and his conduct, and certainly not to apologize for it.
---
The trial of Socrates occurred in 399 BCE, after the Athenian defeat at the hands of Sparta in the Peloponnesian War (431–404 BCE). Socrates was found guilty by a narrow margin and was asked to propose a penalty. He rejects prison and exile and offering to pay a fine instead. When the jury had rejected his suggestion and sentenced him to death, Socrates stoically accepted the verdict with the observation that no one but the gods knows what happens after death, so it would be foolish to fear what one does not know. He warned the jurymen who voted against him that in silencing their critic rather than listening to him, they have harmed themselves much more than they have harmed him.
Charges Against Socrates
He studies things in the heavens and below the earth



This charge identifies Socrates as a 'natural philosopher'.

In ancient societies, people construct the world in terms of the gods and by telling stories about them. The gods are the powers who rule and shape the world. These societies are described as "mythopoeic". Hesiod's Theogony, Homer's Iliad, and Odyssey are examples of this sort of account in Ancient Greece.

However, beginning around 585 BC, various Greek philosophers attempted to make sense of the world in terms of various elements and 'mechanical' principles. For example, Anaximenes thought that all things were made of air through expansion and condensation; Democritus thought that all things were made from tiny particles of matter (atoms). Philosophy was perceived as arising in opposition to traditional religious beliefs.

Socrates Address by Louis Joseph Lebrun, 1867

He makes bad arguments into good arguments



This identified Socrates with the Sophists. The Sophists were a group of orators who use techniques of persuasion, allowing them to reshape the others' point of view regardless of the subject matters. These individuals went from city to city and particularly trained young men who wanted to gain political power. They were very distrusted in Athens.

Socrates is guilty of corrupting the young



This charge is a consequence of the other charges.

Socrates does not believe in the gods of the city.



This charge follows the first charge. Early societies were theocracies. Political power was believed to be derived from the set of gods created by the leaders and in many cases, they regarded themselves as divine and were able to trace their ancestry back to the gods. Not believing in those sets of gods is a kind of treason since it undercut the authority and legitimacy of a particular regime. By being accused of being a natural philosopher, Socrates was also accused of not believing in the gods of the city just like Anaxagoras, who believed that the sun is a hot rock; this implicitly denies that it was Apollo and thus, implicitly denying the legitimacy of those who claimed to rule Greek cities because they could trace their ancestry back to Apollo.
The Accusers
At the opening of "Apology," Socrates stands before a court of Athens as he faces his accusers who wish to see him put to death. His accusers are Anytus, Meletus, and Lycon, all prominent Athenians who were prompted by politicians, poets, and artisans to pursue the death of Socrates.
There are another thing young men of the richer classes, who have not much to do, like to hear the pretenders examined, and they often imitate and proceed to examine others. There are plenty of persons, as they quickly discover, who think that they know something, but know little or nothing. And then those who they examine instead of being angry with themselves are angry with Socrates. This villainous misleader of youth! And then if somebody asks them what evil he practices or teaches? They may not appear to be at a loss; they repeat the ready-made charges used against all philosophers about teaching things up in the clouds and under the earth, having no gods, and making the worse appear, the better cause. For they do not like to confess that their presence of knowledge has been detected-which is the truth. They are numerous and ambitious and energetic, drawn up in battle array, and have persuasive tongues; they have filled your ears with their loud and inveterate calumnies. And this is the reason why Socrates's three accusers, Meletus, Anytus, and Lycon, have set upon him. Meletus, who has a quarrel with me on behalf of the poets; Anytus, on behalf of the craftsmen and politicians; Lycon, on behalf of the rhetoricians.
He knows that his plainness of speech makes them hate him, and what is their hatred but proof that he is speaking the truth? Hence, the prejudice against him has arisen, and this is the reason for it, as you will find out either in this or in any future inquiry. He has said enough in his defense against the first class of his accusers. They are headed by Meletus, that good man and true lover of his country, as he calls himself. Against these, he must try to make a defense. Let their affidavit be read: it contains something of this kind: It says that Socrates is a doer of evil, who corrupts the youth; and who does not believe in the gods of the state, but has other new divinities of his own. They say that he is a doer of evil and corrupts the youth. Still, he says, O men of Athens, that Meletus is a doer of evil, in that he pretends to be in earnest when he is only in jest and is so eager to bring men to trial from a pretended zeal and interest about matters in which he never had the smallest interest.
Socrates' Philosophy
As far as Socrates's answers to his accusers on his trial to prove his innocence went, his philosophy talk went farther by risking his own life to remain true to its moral obligation. Socrates seeks truth and wisdom by examining and questioning everyone without limits: "to fulfill the philosopher's mission of searching into myself and other men"-The Apology of Socrates. His philosophy values bravery over the fear of death as an act of ignorance for Socrates prides his wisdom over other men in knowing he knows nothing, even death itself: "—that whereas I know but little of the world below".
Not only that but his philosophy also values improvement in personal and public virtue over wealth and reputation: "virtue is not given by money, but that from virtue comes money and every other good of man, public as well private". And the value in his philosophy remains alive by only living on "a private station and not a public one".
Socrates used his own life experience twice to explain why his philosophy wouldn't last long had he engaged in politics, first when Athens was a democracy to oppose the illegality of a trial of the generals who had not taken up the bodies of the slain after the battle of Arginusae in the body. Second, when Athens was in tyrant rule, the Thirty Tyrants demanded him to bring Leon to put him for death to explain why his philosophy won't last long had he engage in politics: "Now do you imagine that I could have survived all those years, if I had led a public life, supposing that like a good man I had always maintained the right and had made justice, as I ought, the first thing? No indeed, men of Athens, neither I nor any other man".
His philosophy also prevents Socrates himself from "asking a favor from the judge" and "by force of persuasion and entreaty I could overpower your oaths" as it puts piety of the individual and the law above personal pleasure.
His philosophy's moral values improve the Athenian youth's soul by encouraging questioning and debating without material profits, ensuring its popularity after Socrates's death in the verdict of his trial. Yet Socrates's gift to his most important youth, his sons, is the same philosophy he followed and now he wished to enforce on them as his last will to his friends and enemies: "and I would have you trouble them, as I have troubled you if they seem to care about riches, or anything more than about virtue", "or if they pretended to be something when they are nothing, - then reprove them, as I have reproved you", "And if you do this, both I and my sons will have received justice at your hands". As the gift to the youth after his death, Socrates's prophecy on his philosophy's popularity to the youth was fulfilled, for all of the many different philosophical schools of the early fourth century B.C. claimed descent from Socrates and developed one or another aspect of his teachings.
His view on Death
"I would rather die having spoken after my manner than speak in your manner and live."
Socrates believes that death is a state of nothingness and utter unconsciousness, this is a change and migration of the soul from this world to another. Suppose that there is no consciousness, but a sleep like the sleep of him who is undisturbed even by dreams, death will be an unspeakable gain.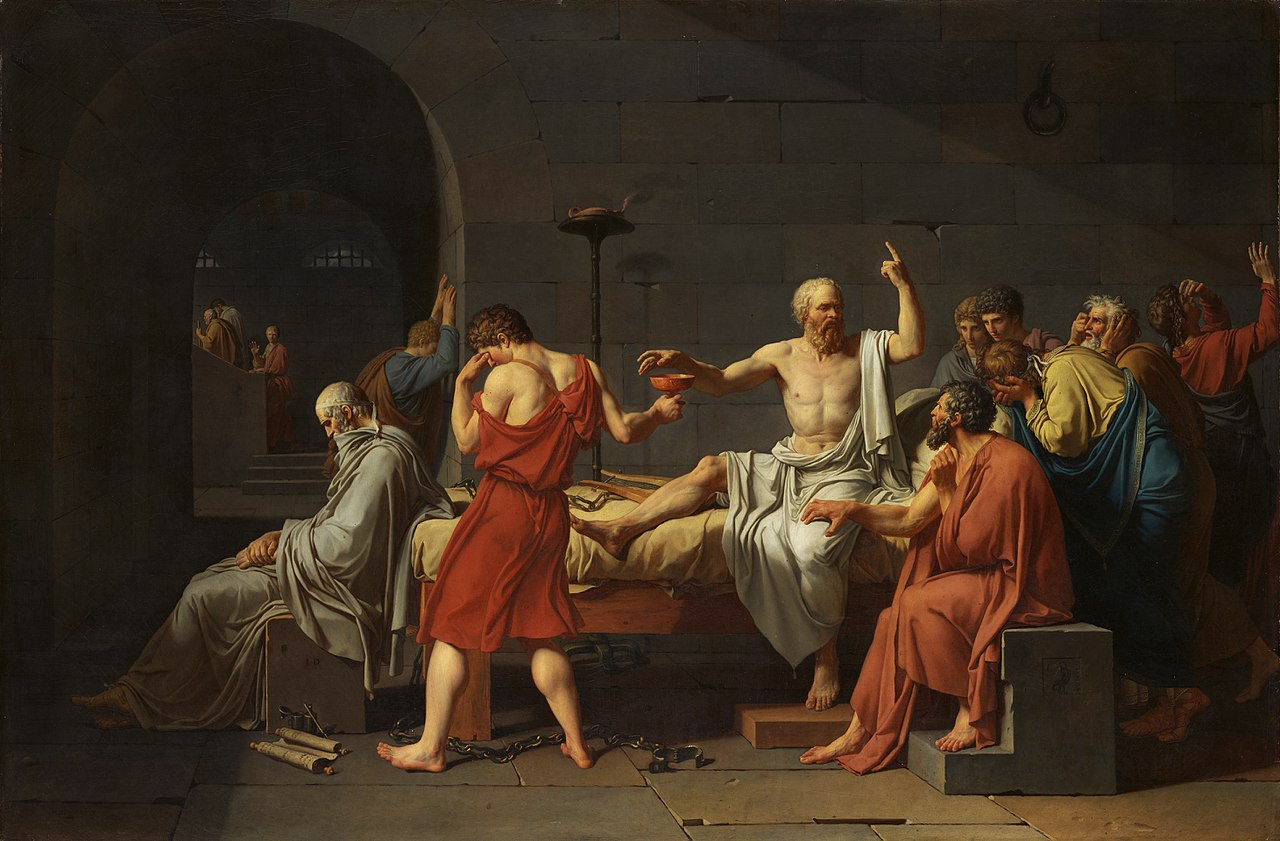 The Death of Socrates, Jacques-Louis David, 1787
Socrates also believes that to be of good cheer about death and know of a certainty that no evil can happen to a good man, either in life or after death. He had an opportunity to escape, as his followers were able to bribe the prison guards. He chose to stay in prison for several reasons:
He believed such a flight would indicate a fear of death, which he believed no true philosopher has.
If he fled Athens his teaching would fare no better in another country as he would continue questioning all he met and undoubtedly incur their displeasure.
Having knowingly agreed to live under the city's laws, he implicitly subjected himself to the possibility of being accused of crimes by its citizens and judged guilty by its jury. To do otherwise would have caused him to break his "social contract" with the state and harm the state, an act contrary to the Socratic principle.
Group 8
Đặng Hữu Phúc: Web designer, Overall Editor
Trần Phương Trang: Writer of "Part 1: Introduction" and "Part 2: Charges Against Socrates"
Lê Vũ Xuân Quỳnh: Writer of "Part 3: The Accusers"
Nguyễn Đại Thắng: Writer of "Part 4: Socrates' Philosophy"
Nguyễn Tuấn Minh: Writer of "Part 5: His view on Death"